Think you've seen it? Think again!
Toowoomba Carnival of Flowers is recognized as a national tourism event. As one of the premier tourist attractions in the region DownsSteam is proud to be a major part of this important event. Carnival week is your opportunity to enjoy not only the beautiful gardens but to see the great progress that has been made towards the DownsSteam dream of running a tourist railway. We've added a touch of class, first class in fact, with arrival of our M class sleeping cars and carriages, one of which is resplendent in its Great Divide Scenic Railway livery – and yes that's real gold leaf.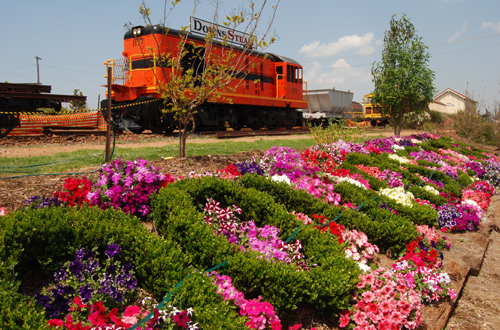 Restoration of our Art Deco rail motor The Gatsby Flyer is well under way and well worth a look. Check out our new exhibit, a beautiful one-third scale model of a traction engine and don't forget to take a ride on our section car. The unique   Dreamtime Journey Coach, an indigenous art gallery on wheels, remains our main attraction. Visitors spot something new every time they step inside.
There's a lot to see and do and our friendly guides are ready and proud to show you round.
We are open on Saturday September 19th closed on Sunday 20st and then open everyday from Monday 21 until and including Friday 25thof September. Refreshments are available. Opening Hours are from ten in the morning until three in the afternoon – See you there!
DownsSteam on track for the future…In touch with the past.